As you likely know, one of Temkin Group's Four CX Core Competencies is Purposeful Leadership. It requires demonstrating 5 P's of Purposeful Leaders: Persuasive, Passionate, Propelling, Positive, and Persistent.
Why should leaders bother to adopt these practices?
To answer this question, I took a look at our latest consumer survey and analyzed data from more than 5,000 full-time U.S. employees. As you can see in the chart below, employees who experience the behaviors of purposeful leaders are much more likely to do something that is good for the company even if it's not expected of them.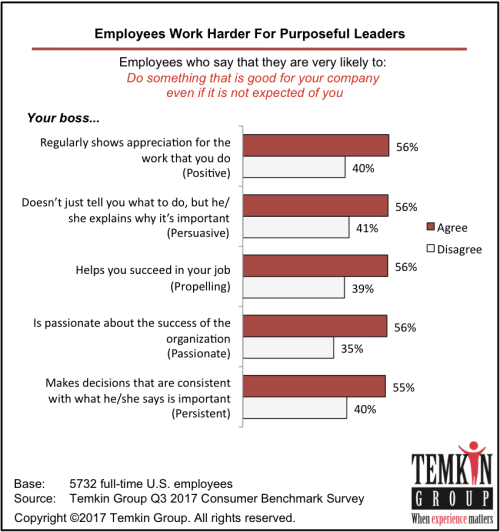 This analysis highlights one piece of our dataset that shows how employees work harder for purposeful leaders. We see this same pattern across many other employee behaviors.
Being a purposeful leader is not about being a nice person or a likable manager. It's about acting in a way that motivates employees and creates a higher performing organization.
The bottom line: Purposeful leaders have more dedicated employees.
This blog post was originally published by Temkin Group prior to its acquisition by Qualtrics in October 2018.