Today is one of my favorite days of the year, Customer Experience (CX) Day. On the first Tuesday of October, we come together as a global community to celebrate great CX and the people who make it happen…  What could be better?!?!
CX Day is particularly meaningful to me. I remember designing and launching CX Day in 2013 (you can see a bit of the history below). It's been wonderful to see how the participation level and energy continue to grow every year.
CX Day always reminds me of how lucky I am to work in this field, which is full of so many wonderful Experience Management professionals. If you want to get a sense of the excitement around this "holiday," check out this video about Karl, the CX Professional, who celebrates CX Day. I created the video in 2014, but I think the passion around CX Day is even stronger today.
If you don't yet have any plans to celebrate CX Day, don't worry. It's not too late. Here are five things you can still do:
Share your CX successes

. CX professionals don't generally take enough time to acknowledge their successes, always looking for the next hill to climb. CX Day is a great opportunity to take a moment, look back, and identify five things that you and your team are proud of accomplishing over the previous year. Share that list widely when you tell everyone about CX Day. If you're posting on social media, use the hashtag #CXDay.

Thank your customers.

You may not have time to connect with all of your customers, but that doesn't mean you can't reach out to a few of them–and say thank you. 

Thank your CX supporters

. There are likely many people across the organization who have helped your CX efforts in many ways. On CX Day, reach out and thank them for all that they've done.

Thank your front-line teams

. Take the time to acknowledge the work that all of your customer-facing groups do to serve your customers. Find some way to say thanks for their efforts… there's even time to send them some snacks.

Participate in CX Day activities

. There are a number of excellent activities happening during the day that you can join, check them out on the

CXPA website

. And I invite you to join my webinar,

The Power of Storytelling

at 2:00 PM ET.
The History of CX Day
Rather than rewrite history, here's an excerpt from a post that I wrote in 2017:
I started thinking about a CX Day in 2012 because I felt like the profession needed to have the opportunity to celebrate itself. I believed that the creation of an event like CX Day would provide the motivation and backdrop for CX professionals to raise awareness of customer experience in a coordinated, high-energy way.
In early 2013, I introduced the concept of CX Day to the CXPA board and outlined its design, which combined a number of online and local events. We decided to do it in the Fall because we already had the very popular Insight Exchange in the Spring. This new event would provide an additional benefit of galvanizing our membership for a second time in the year.
We kicked off CX Day on October 1, 2013, and didn't know what to expect. Luckily, it turned out to be a lot of fun. We actually received a proclamation from the US House of Representatives recognizing CX Day. Pretty cool!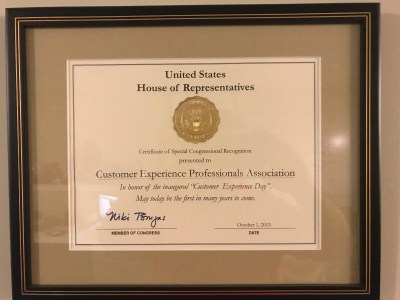 That first CX Day looked a lot like the current model, with webinars, giveaways, online content, awards, and many local events. As part of the CXPA's activities, I had a great webinar with Sprint's CEO, Dan Hesse, and wrote a post for the blog carnival. Temkin Group offered a bunch of free things including our first annual Ultimate CX Infographic and an eBook with 50 CX Tips that are still valuable today.
It was a huge success, as we energized our global base of CX professionals. In subsequent years, we pushed for more companies to internalize the event by celebrating it with their customers and employees. That part of CX Day has expanded immensely since 2013, which has been wonderful to see.
Over the years, the volume of participants and activities has grown. It has matured into the wonderful event that I envisioned that it could become… a celebration of great customer experience and the professionals who make it happen.
The bottom line: Happy CX Day!
Bruce Temkin, CCXP, is the Head of the Qualtrics XM Institute