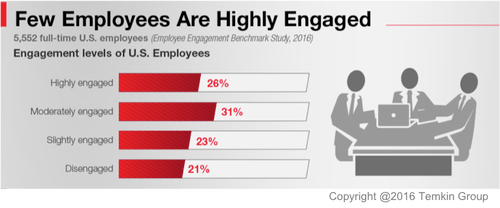 How do we measure employee engagement?
Several years ago, we examined the attitudes that drive engagement levels of employees. Our goal was to identify a small group of key drivers and create a simple measurement for employee engagement. That led to the creation of the Temkin Employee Engagement Index (TEEI).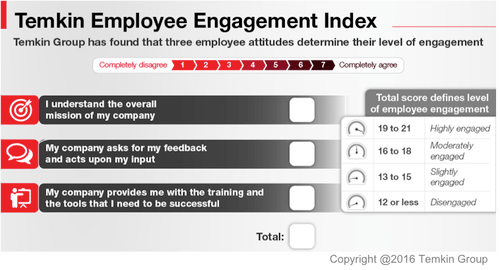 The TEEI is based on the degree to which employees agree with these three statements:
I understand the overall mission of my company
My company asks for my feedback and acts upon my input
My company provides me with the training and the tools that I need to be successful
Our research shows that engaged employees are an enormous asset. Compared with disengaged employees, highly engaged employees are more than four times as likely to recommend the company's products and services and do something good for the company that is not expected of them, 2.5 times as likely to stay at work late if something needs to be done after the normal workday ends, and seven times as likely to recommend that a friend or relative apply for a job at their company.
If you're looking for a simple, actionable metric around employee engagement, feel free to use the TEEI. We also have other great content on our Employee Engagement Resources Page.
The bottom line: Are you focusing enough on employee engagement?
This blog post was originally published by Temkin Group prior to its acquisition by Qualtrics in October 2018.