Temkin Group has been doing large-scale consumer research for several years. As part of our ongoing studies, we track many consumer attitudes. To gauge the overall quality of life for the U.S. population, we created the Temkin Well-Being Index (TWBi) based on a few of those attitudinal elements.
The TWBi is based on a survey of 10,000 U.S. consumers in January. The overall index is an average of three measurements representing the percentage of U.S. adults (18 and older) who agree with these statements:
I am typically happy
I am healthy
I am financially secure
We've been tracking the TWBi since 2012.  As you can see in the figure below:
The TWBi dropped to 63.4% this year after reaching 65.9% last year, the highest over the six years we've been tracking the metric.
The decrease of 2.5 %-points between 2017 and 2018 is the largest single-year decline.
All three areas of the TWBi decreased since last year. The largest decrease is in healthiness, which dropped 2.9 %-points between 2017 and 2018.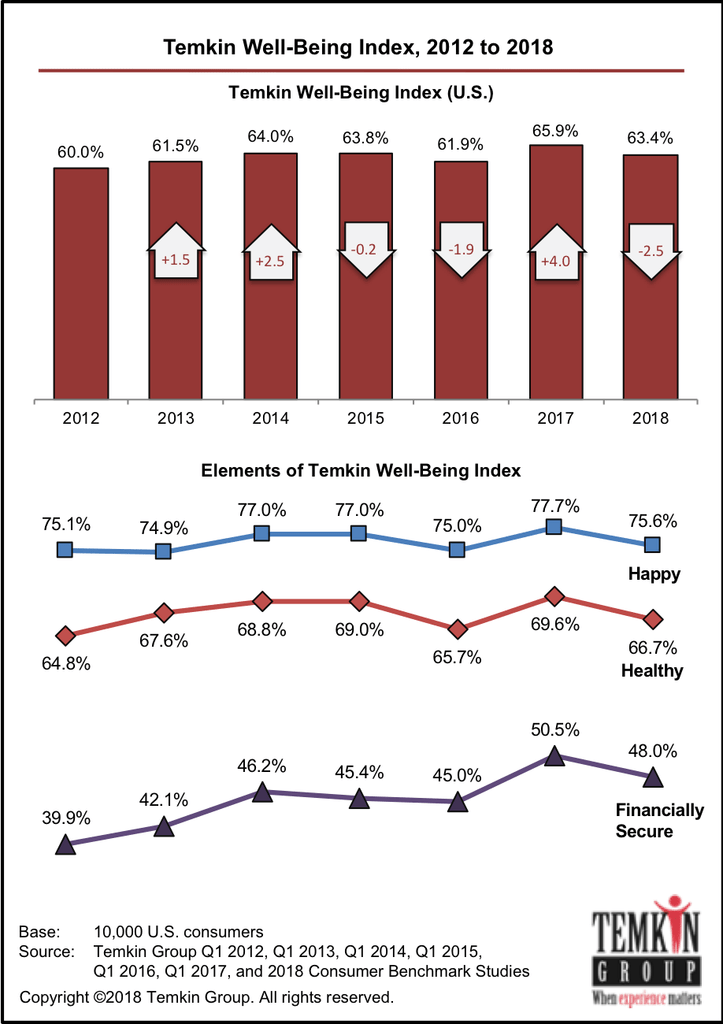 The bottom line: U.S. consumers are much less well off this year.
This blog post was originally published by Temkin Group prior to its acquisition by Qualtrics in October 2018.